Lots of big changes have already happened in 2018 for Nu-Pro Limited, but one of the most exciting ones is here!
The launch of the new and improved Nu-Pro website https://nu-pro.com/, designed by our own Nu-Pro team, A special thanks to our IT apprentice Aaron Young for all the hard work and effort he put into this project, working with Mushroom Internet https://www.websitedesigngloucestershire.co.uk/  to ensure Nu-Pro had a current and up to date website going forward into 2018.
Please take a look at all of our approvals and capabilities whilst keeping up to date with all our news and further video highlights of our wonderful facility with thanks to Sam Crawley at Blink Video https://www.blink-video.co.uk/ we really were blessed to work with such a fantastic team in making this website a success.
Welcome Nu-Pro to Social Media

We will be launching a social media platform so we can keep our customers and followers up to date with our ongoing progress, we will be launching, LinkedIn, Facebook & Instagram, so give us a #like and a #follow...
Upgraded Business System
To further improve our own internal communications and customer service we have revamped our in house IT system to bring a faster, More productive service to the Aerospace, Defence, Automotive and Oil & Gas Industries, we aim to go live with this package June 2018.
BSI AS9100D Accreditation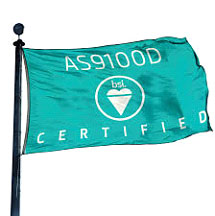 Nu-Pro are pleased to announce that we have transitioned and are fully compliant to AS9100 Rev D, and we thank all our staff for their hard work and determination to make our business a better place. A special thank you to Nu-Pro's Quality and Technical Manager Bartosz Wojtczak, for his superb dedication in leading the team through the BSI Accreditation.